Environmentalism Past & Present: A View from 19th-Century Italy  October 2023 All Things Italy
Dear Italy-Loving Friends:
I hope your October is off to a good start. In so much of the US, it has not yet felt like fall. I recall warm Octobers from my childhood in the South, stifling hot Halloweens when wearing costumes and masks was miserable. Usually, though, these "second summer" days followed some cool weather. This year we have not. The recent warm September and flooding in New York are just two reminders of our changing climate.
Should you be wondering what this topic has to do with Italy—have no fear—the connection is here! I'll share more about the seaside town of Pegli, in the photo above, if you read further . . . .
Also, those who have been subscribers for awhile may note a slightly different format this month. That's because I've moved All Things Italy to Substack, a new platform to me. You need not do anything different to access it—it will still arrive in your mailbox, and past issues will be available both within Substack and on my website.
Those who are newer subscribers to All Things Italy may not realize that many of my posts connect the past—especially the nineteenth-century—with contemporary concerns. There are plenty of contemporary travel and food writers who will give you as much information as you want about Italy today. I try to share a little bit more about history, books, and culture that are maybe a little less familiar to many readers. Sometimes I note places off-the-beaten-path of typical tourist travel. This month is no exception.
Last month I promised to share a bit about my latest published longer article. The topic: a book on the human impact on the environment, written in 19th-century Italy, but by a US author. Man and Nature; or, Physical Geography as Modified by Human Action (Scribner 1864) earned George Perkins Marsh the title of "father of Environmentalism." You can see that the title (in the screenshot of the 1869 edition below) indicates his concern—a concern even more relevant today—that of how human behaviors have changed the planet.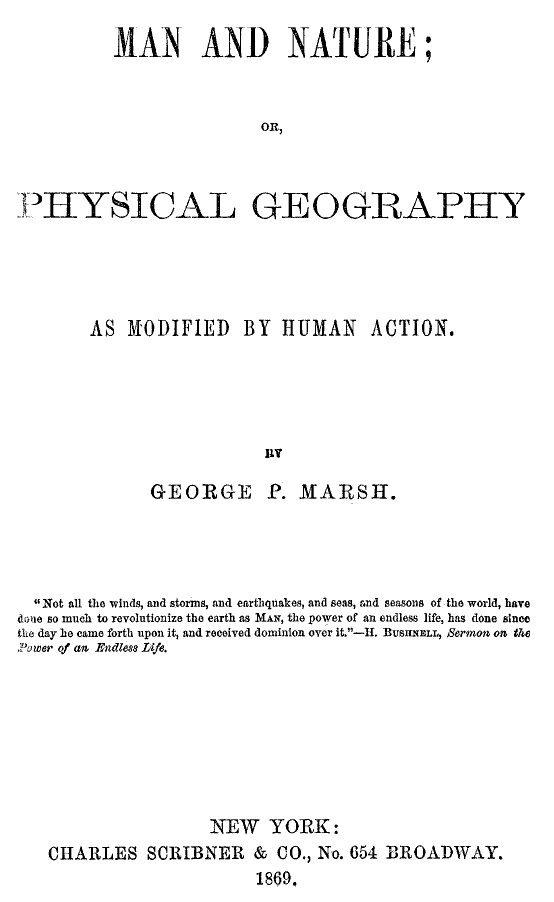 Of course, Marsh wasn't the only person to write of such topics. Nineteenth-century figures Henry David Thoreau and John Muir almost immediately come to mind. But Marsh came across my radar because he lived in Italy for twenty years. And, his wife Caroline is a key figure in Engaging Italy, my recent book on US women in nineteenth-century Italy.
In fact, Caroline's role in George's book is one part of my article published by Firenze University Press in August. She encouraged George to write the book, and he took up the challenge. She knew how much he cared about the environment, read about it, and closely observed it. Since his New England childhood, in and around Woodstock, Vermont, he had witnessed environmental changes as railroads and other industry took down forests. He added to those experiences many new ones from the years he and his wife Caroline lived and traveled abroad. The couple went abroad when George served as a US diplomat, first to the Ottoman Empire and then to Italy.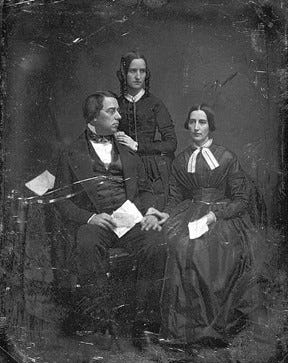 Caroline and George Marsh hiked in the Alps, explored glaciers, ascended Mt. Vesuvius, and explored the soil of Mt. Etna. They traveled up the Nile and across the desert to see sites of ancient Egypt and to witness the life there. During all their excursions, they noted the terrain, the topography, the animals, and the vegetation.
Living in Turin during the first part of George's appointment to Italy, when the kingdom's capital was there, the couple easily took vacation leaves to the nearby Alps, which factored into Man and Nature. But for a brief period one winter, thanks to the railroads (a little irony here!), and Caroline's ongoing ill-health, the Marshes moved south to the Mediterranean coast for a milder climate. They lived just outside Genoa in the coastal town of Pegli, where George began writing Man and Nature. He commuted by train to and from the embassy offices.
When spring arrived, the Marshes chose to live closer to Turin, in Piobesi, now a suburb of the vibrant city. They found a villa built during the Renaissance, with a tower remaining from the Medieval era. Below are three pictures I took when visiting Piobesi in early July 2022 and an artist's rendering from an earlier era. The complex is now a public site.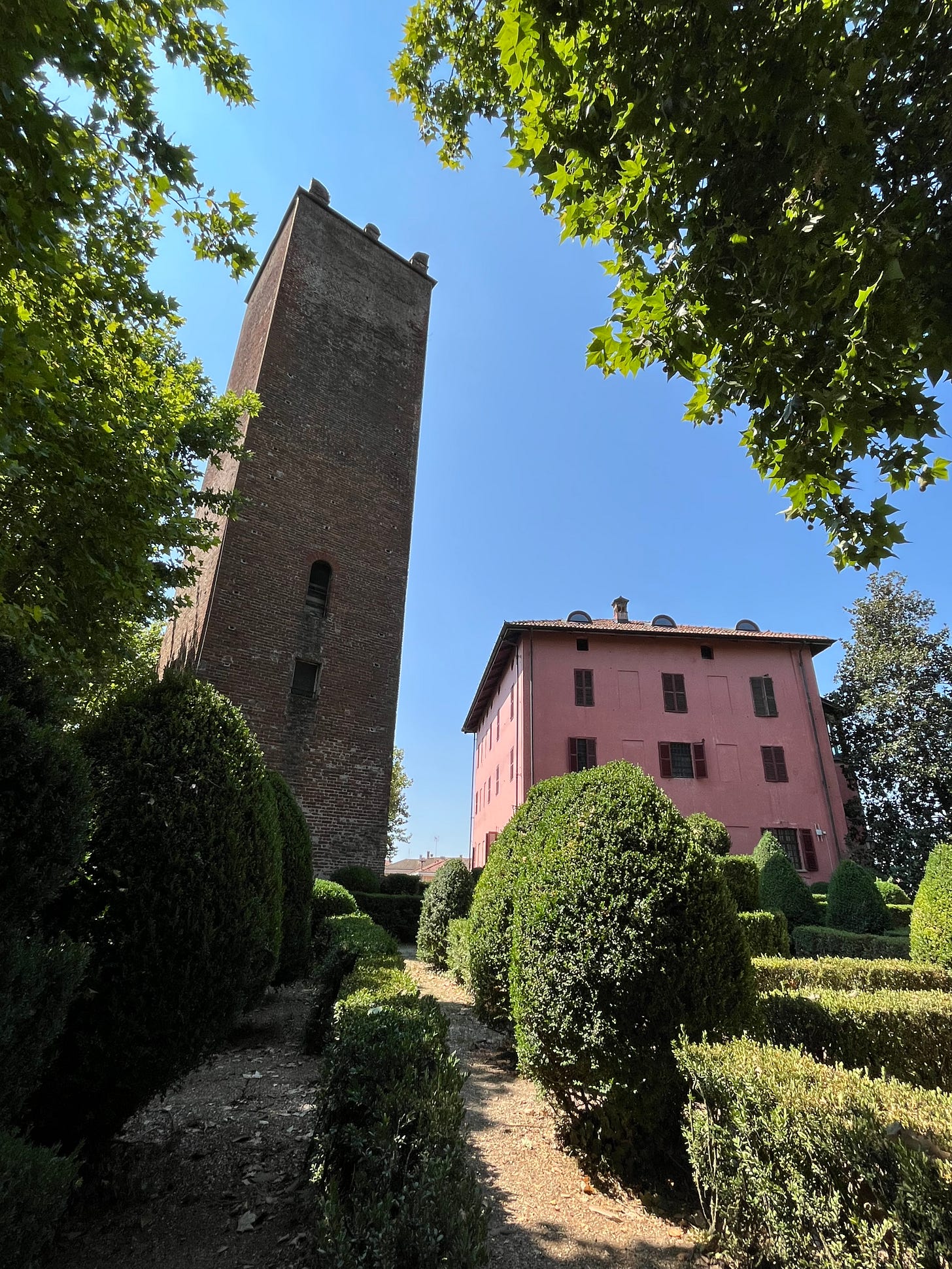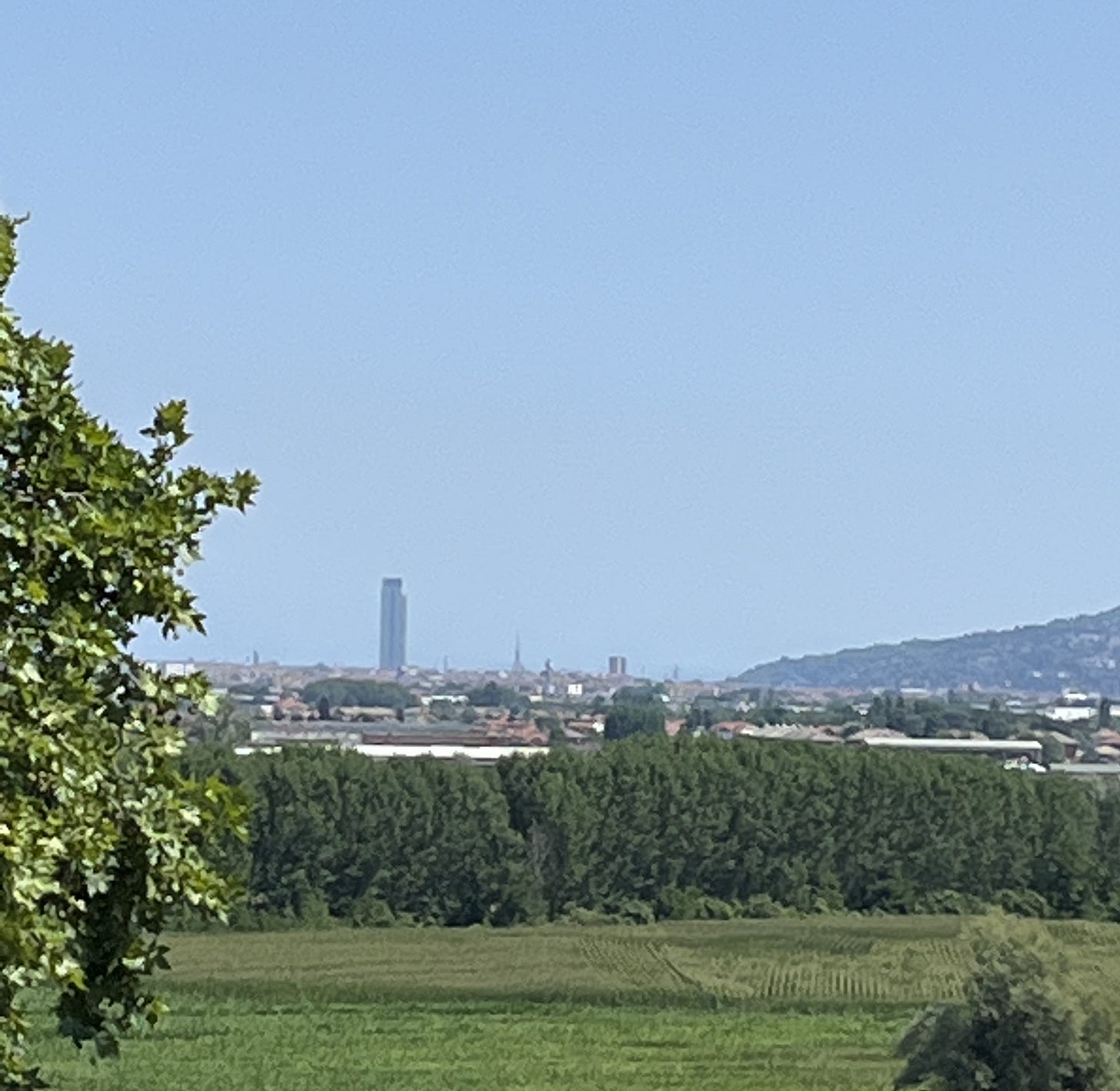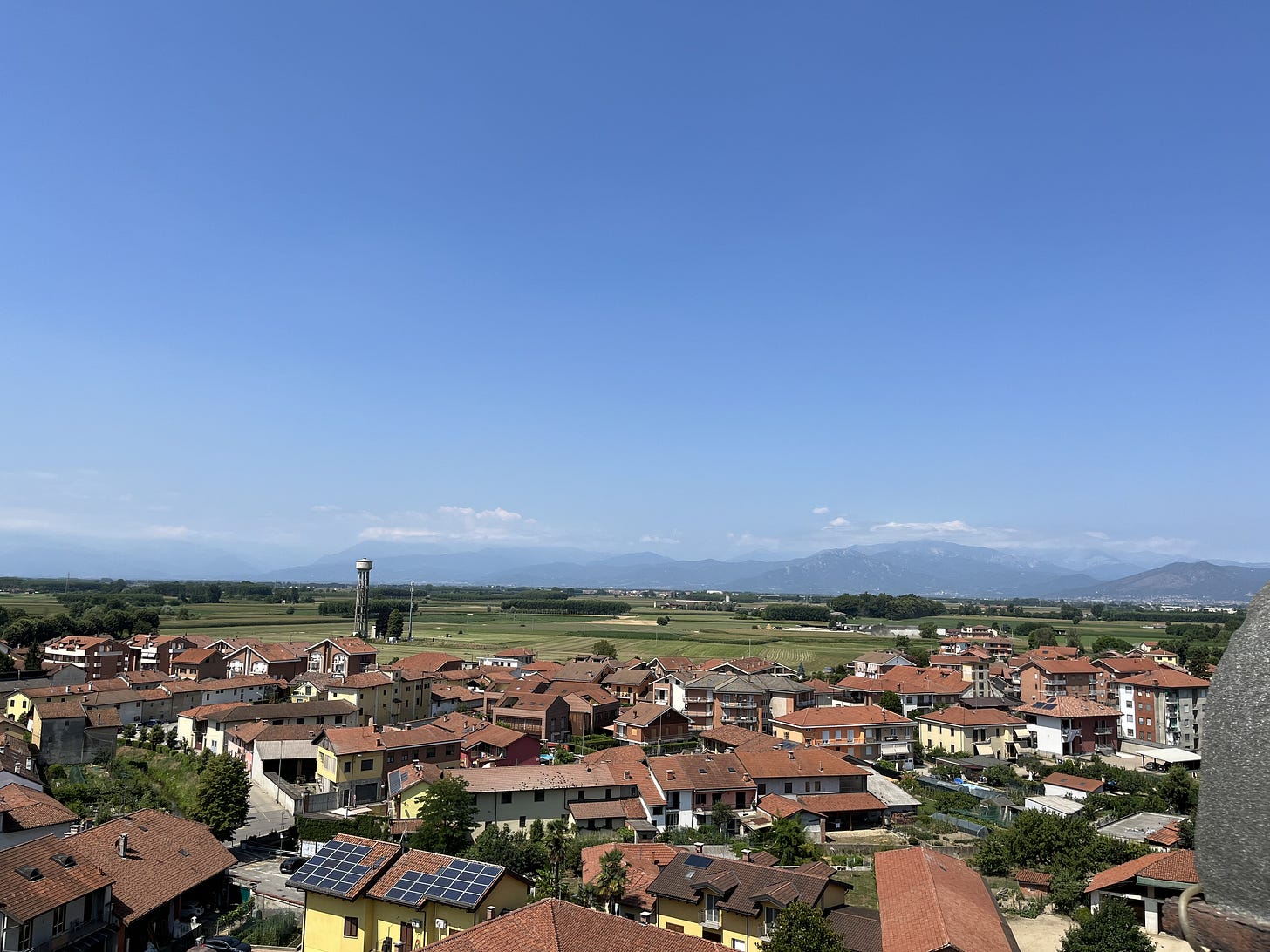 Both these locations offered fewer distractions to the Marshes than city life in Turin and Genoa. The coastal town of Pegli with its sea views and the rural village of Piobesi surrounded by greenery and a partial ring of mountains fed the work George and Caroline needed to complete the manuscript. The environment with its proximity to nature was essential to the couple as they dedicated themselves to daily deskwork, especially as as they finished up the manuscript in the spring and early summer of 1863 at Piobesi.
I include Caroline's name here, because she not only prompted the volume, she also discussed the contents, proofread pages, and created the index. Another example of a woman assisting a male writer—and not listed on the title page or in the acknowledgements. There aren't any acknowledgements in this book. But Caroline wrote in her journals of the intensive work on the project, and George wrote of her involvement in his letters to friends.
Most important, though, are the ideas the volume puts forward. George advocated for the "usufruct" relation of humans to the environment. This relationship is one in which humans enjoy the advantages of the natural world, but not to the point of waste and abuse. In fact, those using also give back, doing their part to maintain the environment and the relationship.
Within the volume, George celebrated the advances of the ancient Roman civilization. He noted especially their ability to divert rivers in the mountains, changing the valleys and floodplains in ways that decreased flooding and enhanced agriculture. He cited Italian historians on the topic, adding to his observations in the Val di Chiana and the Val d'Arno. But he also noted the long-term negative effect on the low-lying floodplains. The Maremma region, from Viareggio to Carrara, had changed immensely for the better in recent years, he wrote, as contemporary engineers and others used technology to improve drainage and reduce diseases rampant in the otherwise low-lying wetlands. He toured the areas with local men of science and conversed with them to glean their insights.
---
Knowing about this work, both reading its contents and learning about its composition in Pegli and Piobesi, changed me. It opened up my understanding of Roman achievements—beyond roads and bridges, colosseums and domes—and nineteenth-century engineering in Italy. It also gave me a new appreciation of rivers like the Arno, its flood plain, and delta. These insights to the Marshes' reactions to Italy also enhanced my knowledge of their love for and concern with the environment.
When I hiked in the Alps near Turin to seeing a couple of the glaciers George and Caroline observed, I was saddened to see how much these ice fields had melted in June of '22. This past summer, the melting continued.
Writing this article also introduced me to the off the beaten track towns of Piobesi and Pegli—both places to which I would return, should I need to escape the congestion and city life of Turin or Genoa.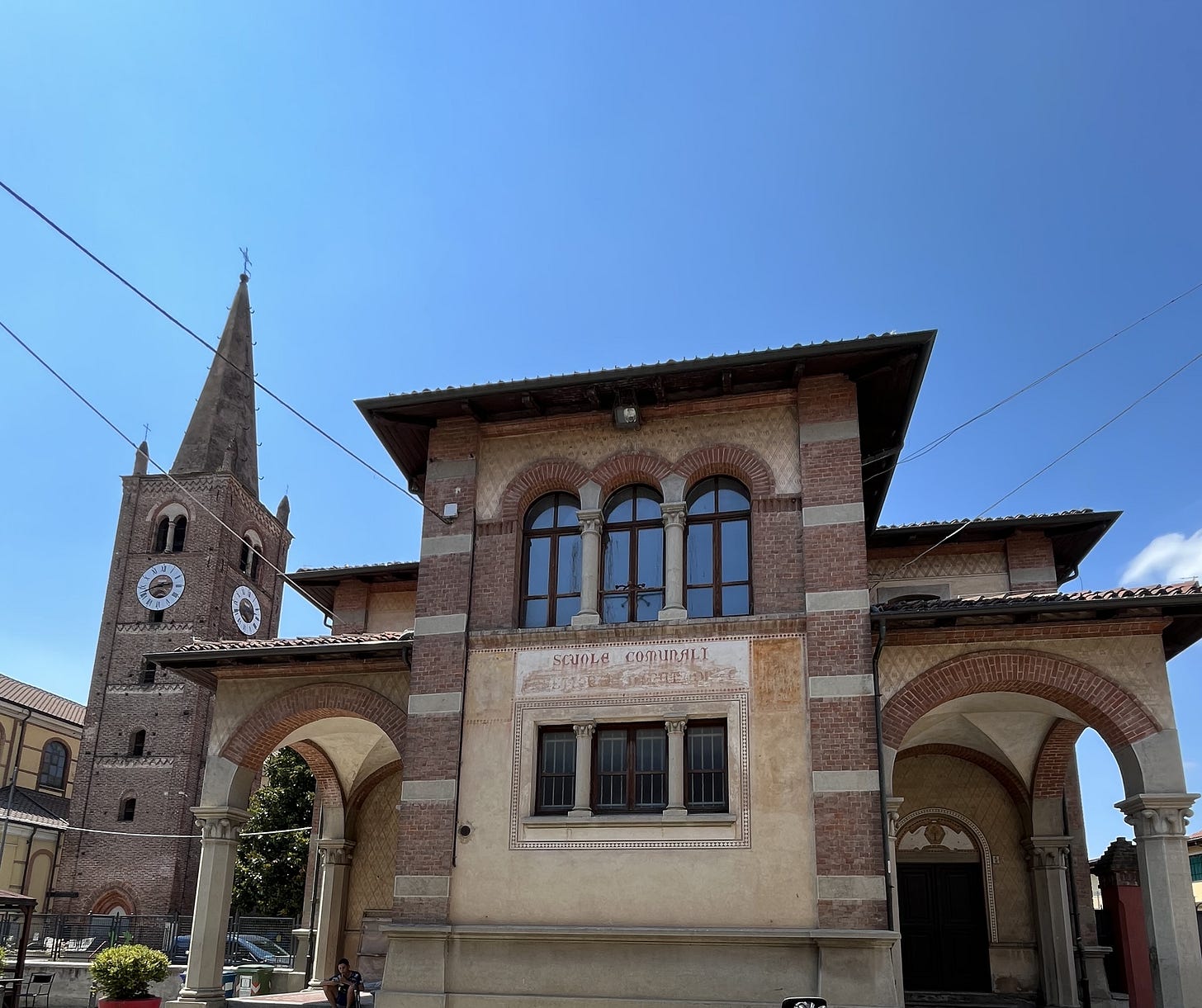 Perhaps these little bits of information about Italy past will help you appreciate Italy present even more. As always, I'd love to have your feedback. I'm also happy to answer any questions arising from what I've shared.
If you want to know more about Man and Nature, the book is accessible online free in several locations, including here. And, if you want to know more about Caroline and George composing it, my article is available (free) online as well.
Finally, I've kept this month's newsletter shorter than usual. It's part of a new plan I have to keep them more focused (er . . . less rambling?) There may be more changes ahead as well.
Until next month, enjoy the weather and try to have a usufruct relationship with the environment, wherever in the world you are!
Saluti cordiali,
Etta
Thanks for reading All Things Italy . . . and a little bit more from Etta! Subscribe to receive new posts and support my work.