Utopian Visions From New Harmony to Naples November 2023 All Things Italy
Dear Friends,
Last month I visited New Harmony, Indiana, twice—my fourth and fifth stops in this town on the Wabash River, just across from Illinois and a few hours drive from my home in Missouri. Those who believe I only travel to Italy, take note:
I stopped twice in October in New Harmony, once in route to Virginia for my son's wedding. The second stop (a longer stay earlier in the month) was for a conference of the Communal Studies Association, the same reason I visited three times in the past. Long before I started writing and studying about Americans in Italy, I was researching and writing about communal groups, sometimes considered utopian.
When I first visited New Harmony, I was as a graduate student, giving a presentation on poetry written by the celibate, communal religious group known as the Shakers. I had no idea way back then that I would later throw myself into sleuthing the lives of little-known women in nineteenth-century Italy. Nor did I know that New Harmony would have a connection to that work.
This newsletter, as many of you know, had its birth in the more recent research on nineteenth-century women, not in my interest in communal groups. For newcomers to All Things Italy – now you know, too. If you hoped to learn more about contemporary travel and culture—have no fear. I do sometimes add such tidbits based on my time in Italy. But this month I share some little-known connections between Naples, Italy and New Harmony which I discovered while working on my book Engaging Italy. (The book's subtitle provides a hint: American Women's Utopian Visions and Transnational Networks). Those connections came to the fore last month during my stay in this now-picturesque town in southern Indiana. Perhaps they will prompt you to visit New Harmony, if not Naples.
New Harmony's Early History, In Brief
New Harmony developed in the early 19th-century with people who hoped to create a little heaven on earth. Members of the Harmonists, a group of German Pietists who followed George Rapp, believed it would offer them a more fertile farm and industry than their patch of hillside north of Pittsburgh, Pennsylvania, where they had first settled in 1804.
After purchasing the plot on the Wabash in 1814, the Rappites experienced almost a decade of success, manifest in large buildings they constructed and filled. The Granary, built between 1814 and 1822, stands today beautifully restored and available for functions. (The Indiana State Museum & Historic Sites, in conjunction with the University of Southern Indiana, manages the New Harmony Historic Site).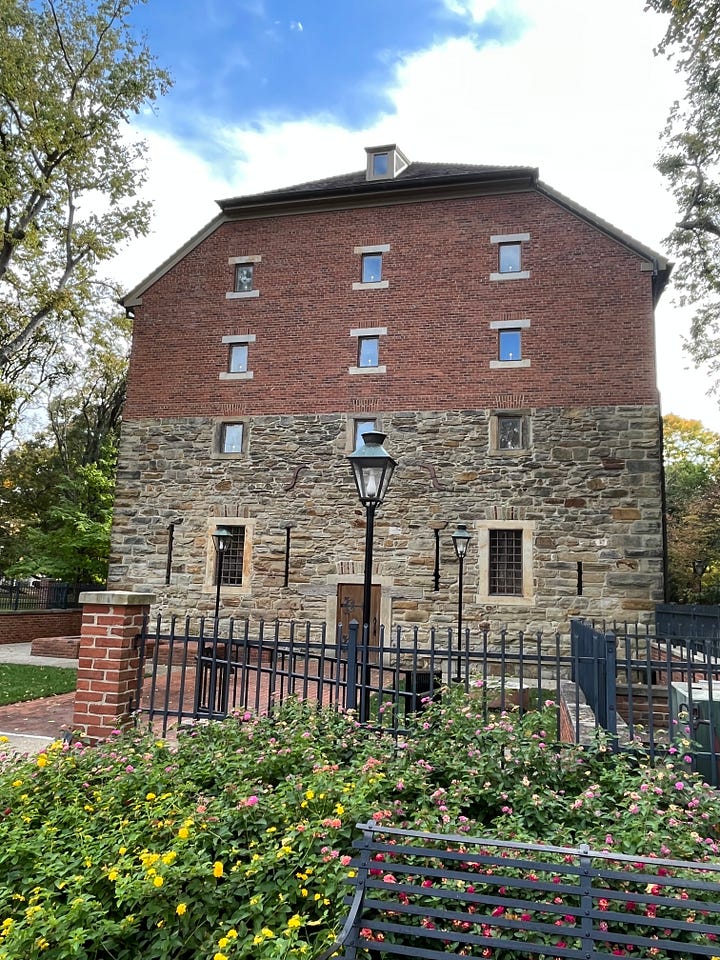 The extant Community House No. 2, built in 1822 and now the starting point for tours, housed 50 society members by the following year. Since 1823, the structure has served many purposes, including housing the printing press and offices of William Maclure's newspaper, The Desseminator of Useful Knowledge (1828-1841).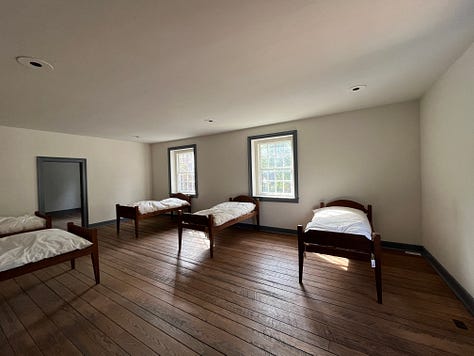 Maclure and his newspaper were part of a second utopian venture, to increase and share knowledge with the working class. But before Maclure arrived in New Harmony, George Rapp's and the Harmonists' attempts at creating utopia on the Wabash had failed, causing them to advertise the property for sale and to return to Pennsylvania in 1824. A single exact reason for the departure remains unclear—as often the case with intentional communities. According to information provided at the historic site today, the stated reasons were of economic, social, and religious types. Conflicts within communities, conflicts with neighbors outside, and monetary concerns often lead to change or collapse. The Harmonists chose the latter—changing by creating a new community, Economy, not far from their original location in Pennsylvania.
Meanwhile, in 1825 a visionary in Scotland, Robert Owen, purchased the Harmonists' property, which allowed him to expand his efforts at improving society in the western US. He'd already founded New Lanark, a thriving secular socialist mill town in Scotland. He spoke throughout the eastern US, inviting people to join his efforts by creating what he hoped would be the first of many improved communities throughout the States. He convinced hundreds to arrive, including the Philadelphia educator and scientist Maclure. Many of these learned folks brought with them their own ideas about how to improve society. Unfortunately, during these first couple of years, New Harmony had more people with good intentions than with good management skills. By 1827, Owen's son William wrote in the community newspaper of what he saw as failure in the Owenites' initial visions. Again, economic concerns as well as differences among leaders (such as Owen and Maclure) contributed to the collapse.
Some scholars of New Harmony's history point not to collapse but to regeneration of ideas. They refer to these initial years with Owen and Maclure as a "seedbed."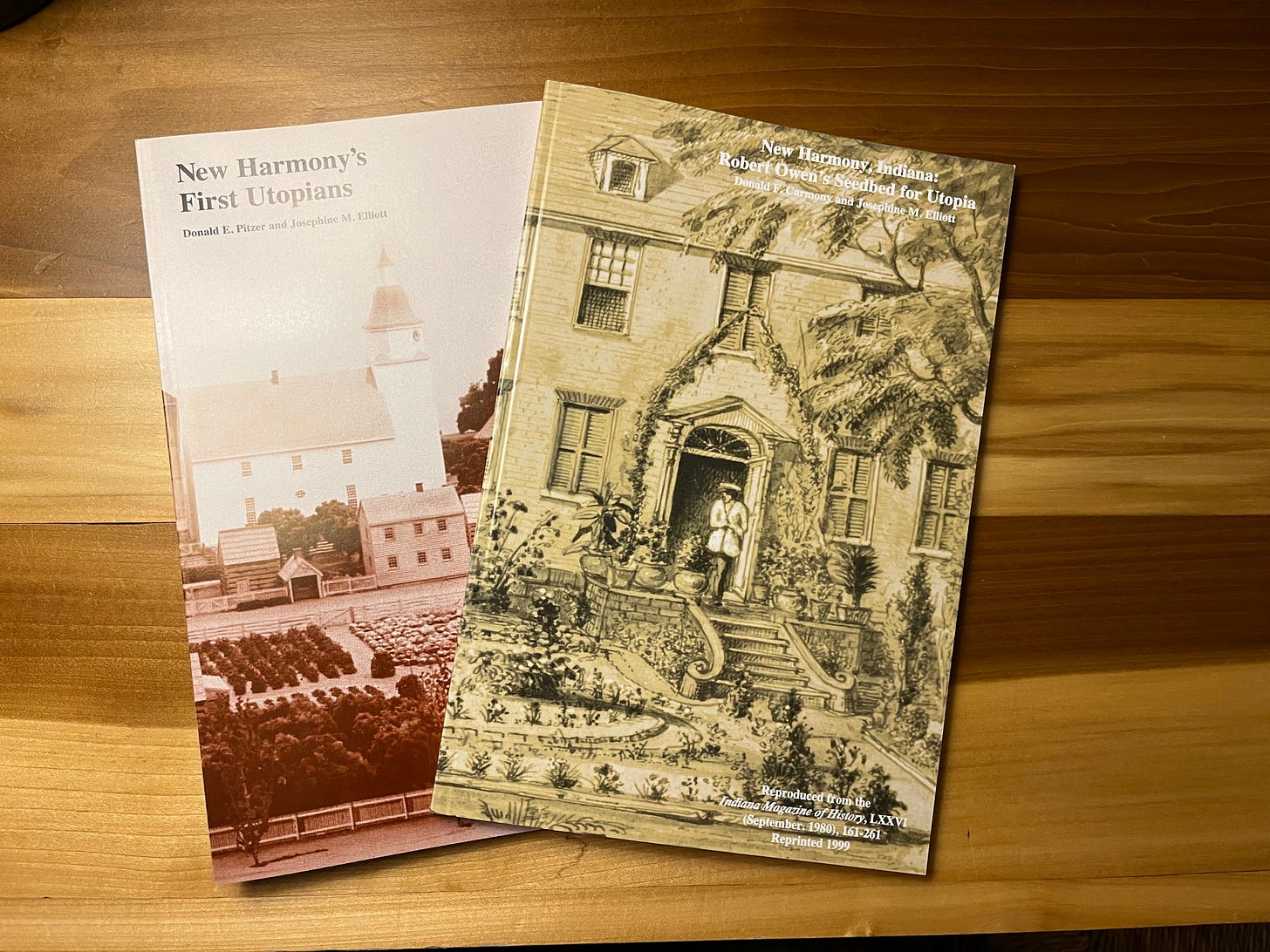 Owen's and Maclure's initial emphasis on social improvement, especially through access to education, continued for many years but in new forms. Among these, for example, Maclure incorporated the ideas of Swiss education reformer Johann Heinrich Pestalozzi to undergird the school established for children in 1826, and in 1838, he established the Working Men's Institute, to foster self-education by laboring-class adults. Other visionaries and reformers, like Frances Wright, and European explorers and men of science, such as Charles-Alexandre Lesueur, lived in or visited the community, sharing and absorbing new ideas, which they spread elsewhere.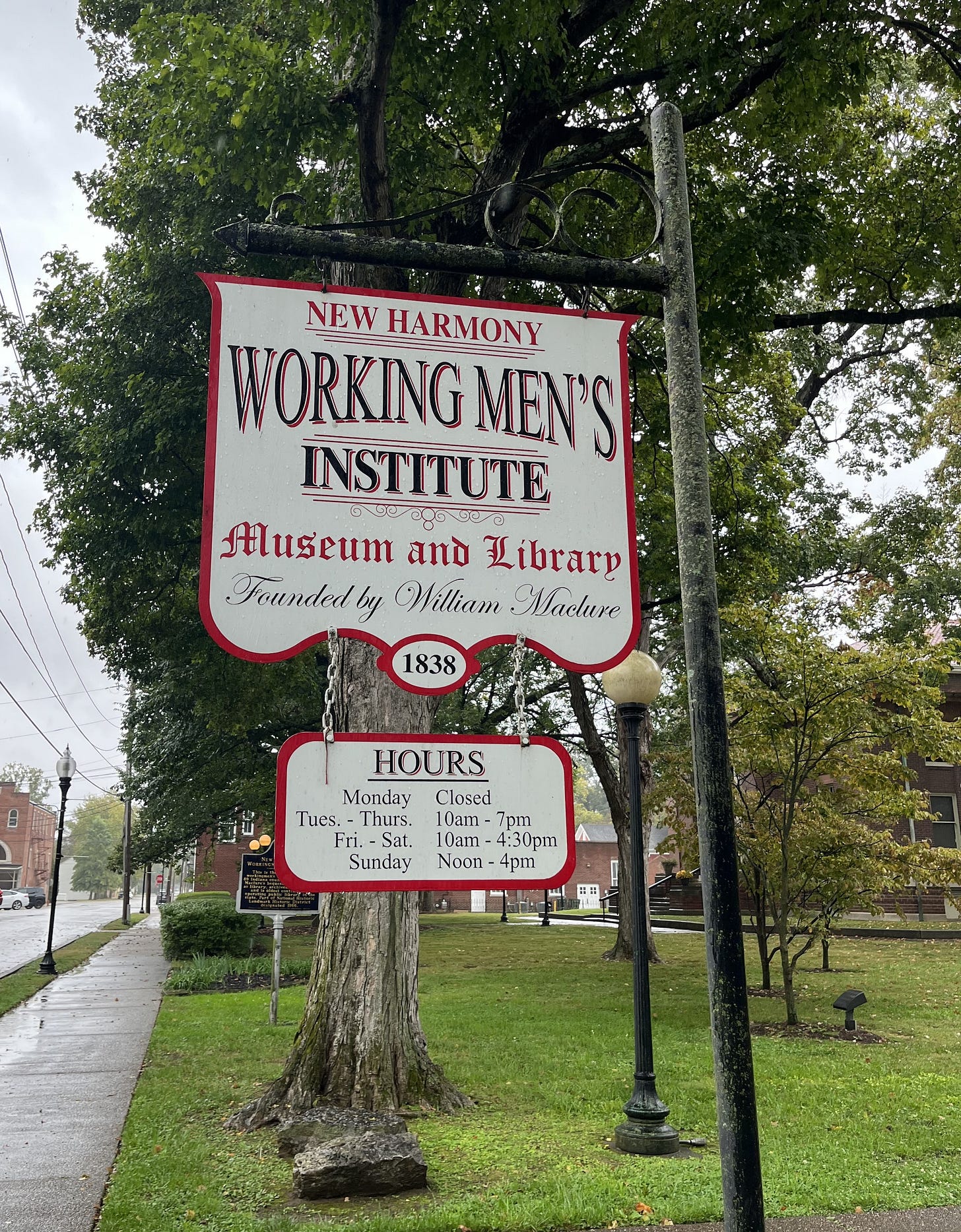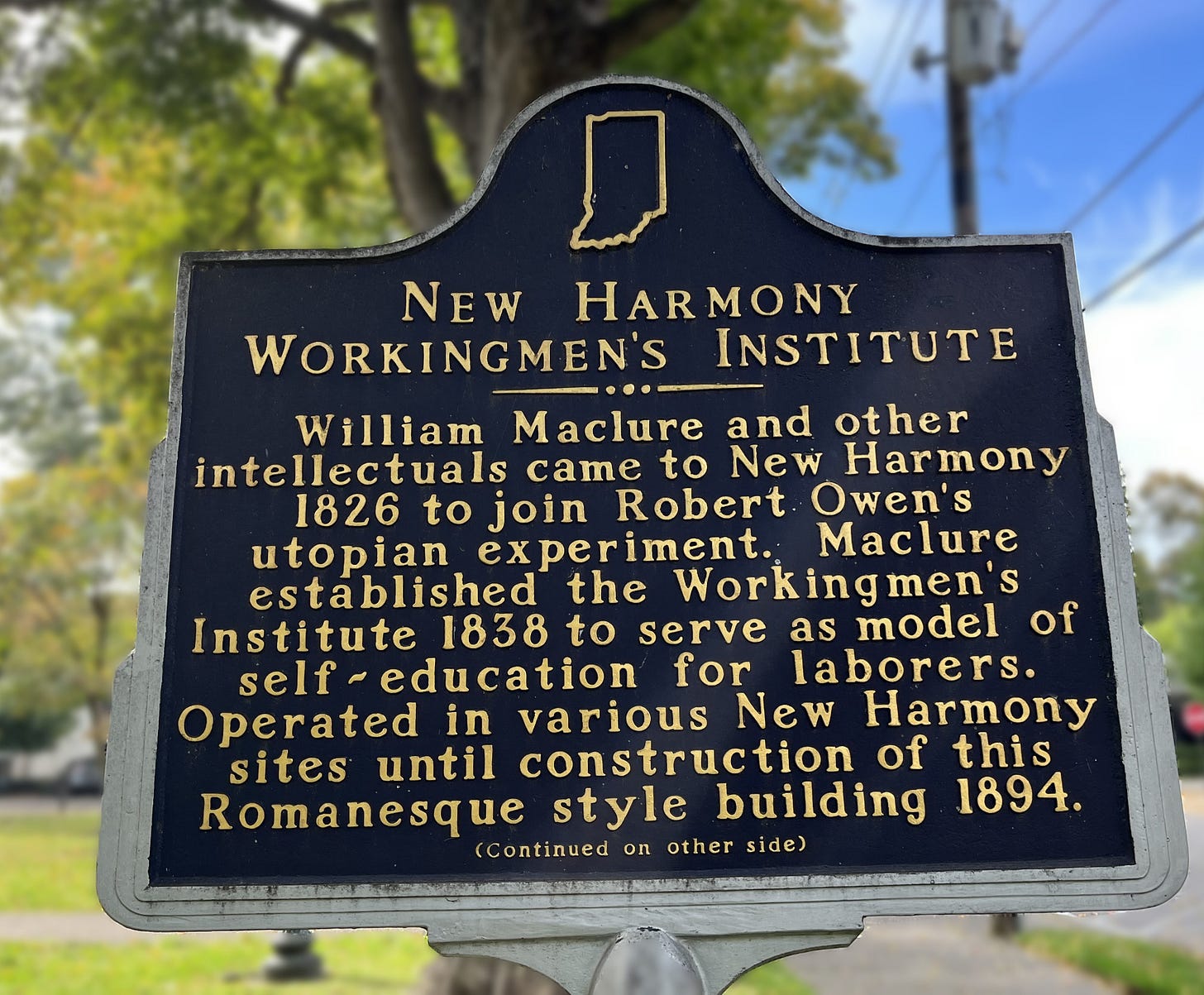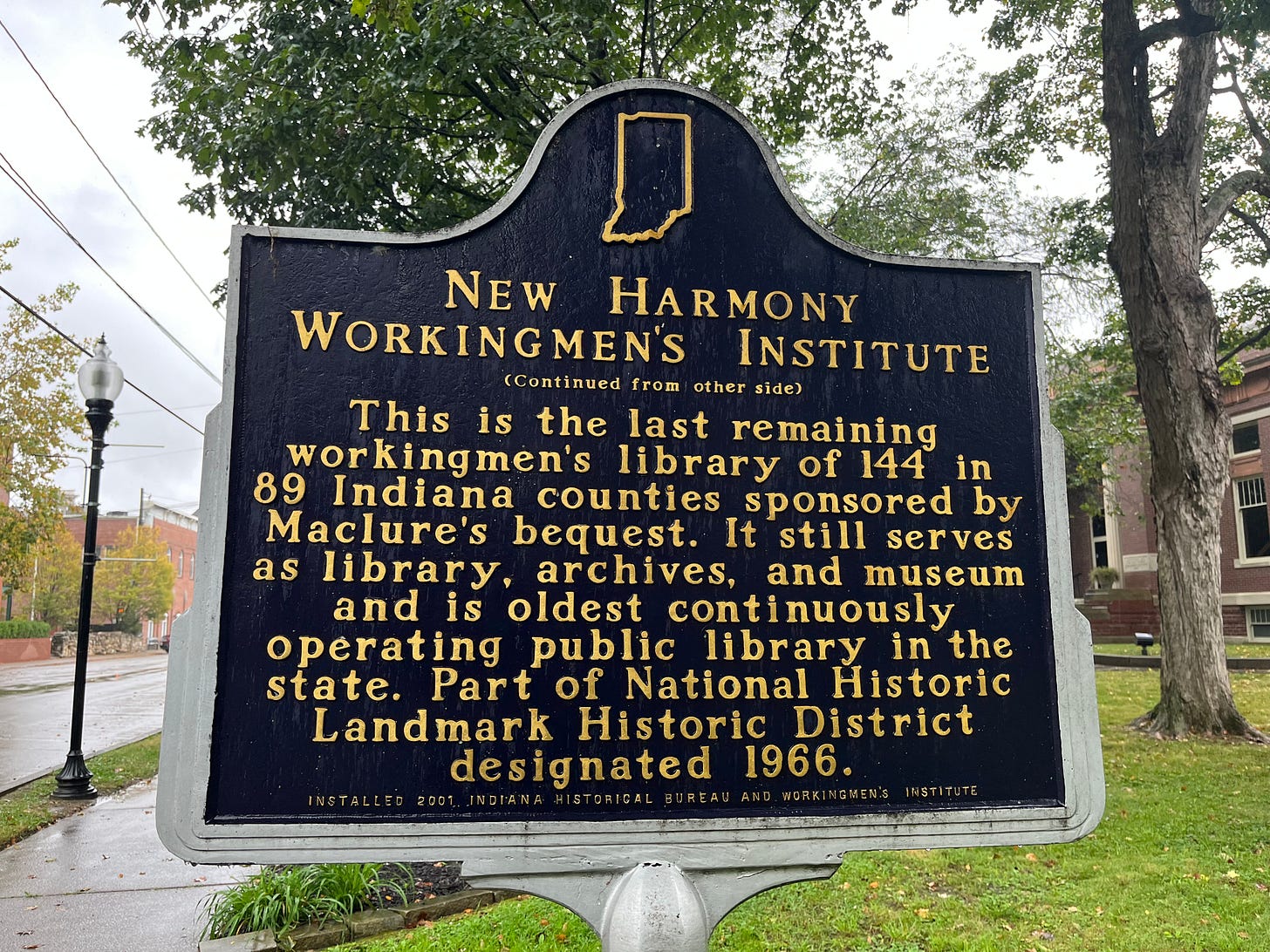 Connections to Italy
What has any of this information to do with Italy, you may be wondering if you've read this far? The seeds of visionaries often sprout and grow beyond where first planted.
For Owen, some of the seeds were in his three sons. One of these, Robert Dale Owen (1801-1877), became an Indiana statesman and a US congressman who opposed slavery. He also lobbied for the establishment of the Smithsonian Institution, symbolic of the US belief in "the increase and diffusion of knowledge". Additionally, in 1853, he became a US diplomat and moved to Naples, where he served as Minister Plenipotentiary to the Kingdom of Two Sicilies (until 1858), before Italy unified as a kingdom in 1860. I'd like to believe that the father's visionary personality influenced this son, encouraging him to seek public service and improve society.
More specifically connecting New Harmony and Owen to my research on 19th-century women in Italy: Philadelphia writer Anne Hampton Brewster, who became a journalist in Rome for more than 20 years, arrived in Europe in 1857 with a letter of introduction from Robert Dale Owen in hand.
Exactly how Brewster acquired that letter is a subject for further research, but what is extremely clear in the extensive diaries she kept is that the letter was life-changing for her, contributing to her efforts to achieve utopia through a life in Italy. The letter was as important as her passport. Traveling as an unmarried woman, accompanied by her maid, Lina, and her dog, Beauty, Brewster needed what the letter gave her—the type of protection that we secure today with our smart phones and credit cards. It opened doors for her—with international bankers and with other expats abroad. The document gave Brewster confidence to travel through Europe—from her landing at Le Havre through her departure from Naples 18 months later.  And the confidence she gained during that stay boosted her to return to Italy in 1868, where she remained until her death in 1892.
After her first summer months in 1857, enjoying the sunshine and scenery in Vevey, Switzerland, Brewster's health and emotions fell as the autumn leaves and winter snows did. She reached out to Robert Dale Owen and his wife in Naples, and they asked her to join them and their daughter. By February 1858 Brewster was again basking in sunshine sparkling on the Bay of Naples, with Mount Vesuvius and the isle of Capri in the distance. She threw herself into drafting what became her second novel, St. Martin's Summer, based on her time there. She enjoyed visiting historical sites such as those at Posillipo associated with the poet Virgil, soirée evenings with music, and frequent travelling guests, such as the popular US poet William Cullen Bryant.  
Brewster's novel includes fictional renditions of all these people and events, including a version of the Owens. Through these pages we learn of Robert Dale Owen's interest in the spirit world, indulging with Bryant in seances popular at the time. Owen later wrote on the subject, in his autobiography and in The Debatable Land Between this World and the Next (1871).
Now a far cry from his father's secular socialism, as Owen peered into the spirit world, he remained linked to his father in that his political visions had pushed him to travel across the Atlantic—although from West to East rather than East to West, as his father had.
Brewster, like Owen, went abroad to actualize her utopian visions: a pursuit of independence as a career journalist and a life free from her older brother's financial control. You can learn more about Brewster's utopian dreams and her writing of St. Martin's Summer on an episode of the Lost Ladies of Literature podcast here (and in Engaging Italy, of course). For those interested in an academic analysis of the novel and Brewster's utopian visions you can read an abstract (or an entire journal article) here.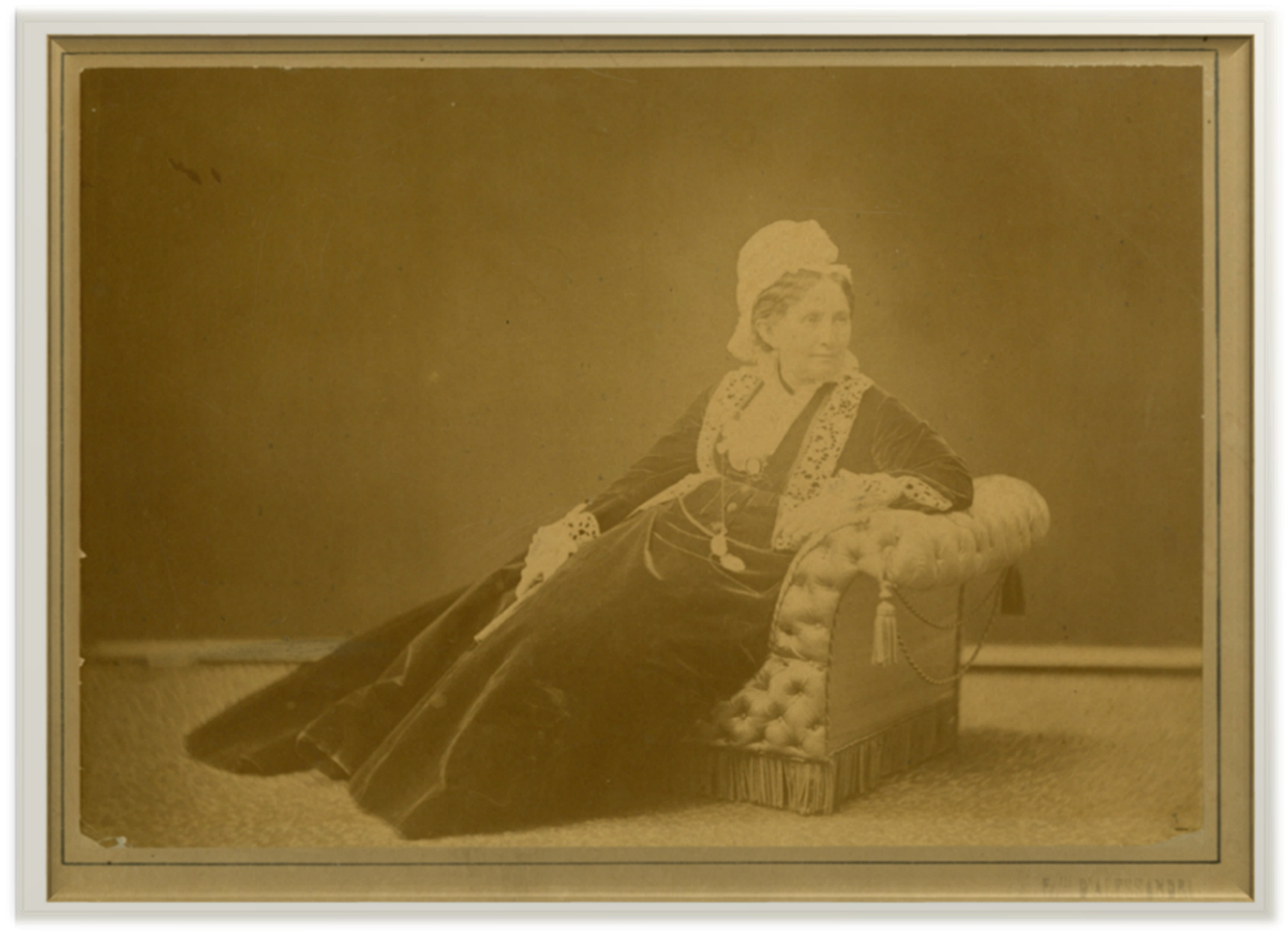 Another connection between New Harmony and Italy, also through Robert Dale Owen, emerges through a second women featured in Engaging Italy. Caroline Crane Marsh went to Italy as the wife of another Minister Plenipotentiary, George Perkins Marsh, in 1861. Like Owen, George Marsh had been a US congressman, against slavery, and an advocate for the Smithsonian Institution. Although the two men approached the fledgling institution with different views of how it should develop (at least one person has labeled them enemies in congress), both lobbied fiercely for this entity as a sign of US support for the preservation and spread of knowledge to all. I could offer you much more about the Marshes' utopian visions—especially Caroline's—but I'll save that topic for a future newsletter. (Or you can read about it in Engaging Italy.)
If you've read this far, you can see now how my October trips to New Harmony revived my past work on nineteenth-century women in Italy and sustained my longstanding interest in all things Utopian.
Next month's topic? I'm not yet sure. But if you've enjoyed reading and, perhaps, learning something new, please send me a comment.
Want to know more about any of these topics? Send me your questions.
You can respond directly on Substack or, if you're not comfortable with that public venue, send them directly to me. I always respond.
Of course, I always appreciate any sharing of a link to an issue with friends you think might like enjoy it.
Until next month, I will keep reading and writing about All Things Italy (. . . and a little bit more).
Etta
Thanks for reading All Things Italy . . . and a little bit more from Etta! Subscribe to receive email notification of free new posts.